Are Native Vermont Hops Good for Brewing? (Part 2)

If you're just tuning into this developing story, you'll want start with Part 1 here.
Together with the UVM Extension NW Crops & Soils Team and our intern, Lejla Mahmuljin, we've taken on the mission of learning just how commercially viable some of Vermont and New England's native grown hops are. Over the past few weeks, we brewed three test batches utilizing historical hop varieties. The whole cone hops we used in each brew were grown using rhizomes (root structures) harvested from wild hops found in locations around New England. We don't know the exact history of these hops, but we suspect that they are remnants from pre-prohibition commercial hop farms.
We brewed three beers using three different varieties of native hops: Kingdom from Tunbridge, VT, Northfield from Northfield, MA, and Wolcott from Wolcott, VT. In addition to this, we brewed an IPA using Cascade hops as a control, a hop we are very familiar with and utilize in many of our recipes at Switchback.
Every Friday, the brewery crew participates in a weekly tasting panel. During one recent Friday tasting session, we sampled the test batches that utilized these historic wild hop varieties to see just how much potential we felt they had for commercial brewing. We asked the team three questions: (1) would you enjoy drinking a beer brewed with this hop? (2) on a scale of 1 to 10, 1 being the least bitter and 10 being the most bitter, how bitter do you think this beer is? and (3) describe the flavor and aroma characteristics imparted by this hop.
From there, our lab Technician, Ellen Dillenbeck, and our UVM intern, Lejla Mahmuljin, collected and analyzed the results from the panel. The staff's clear favorite was the Wolcott hop variety with two thirds of participants saying they would enjoy drinking a beer brewed with them. The other brews were not as well received. Only 44% of the team said they would enjoy drinking a beer brewed with the Kingdom hop. The Cascade and Northfield hopped beers tied for the lowest ranking with only 32% of the crew saying they would enjoy drinking a beer brewed with either of them.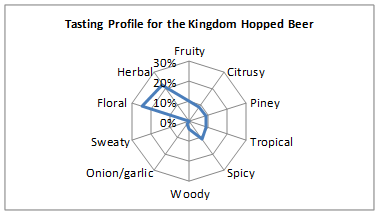 Our team described the Wolcott variety as fruity, citrusy, tropical and floral with some piney notes. They thought the Northfield variety tasted herbal and tropical with some fruity, citrusy, piney and, unfortunately, sweaty notes. The crew also thought the Kingdom hopped beer was very herbal, with a strong floral flavor and aroma as well. The Cascade hopped beer was described as spicy, piney, citrusy, herbal and floral.
On average, the team ranked the Kingdom hopped beer as the least bitter, only a 4.67 on a 1 to 10 scale. This was not a surprise given that it had the lowest IBU count of all four beers. The Cascade was ranked the most bitter, a 6.59 on a 1 to 10 scale. Again, this was not surprising as Cascade had the highest number of IBUs. The team thought the Wolcott hopped beer was the second most bitter, a 5.78 out of 10, and the Northfield was the second least bitter, a 4.94 out of 10. Although there was only a 5 IBU difference between the two beers, we had expected the Northfield beer to taste more bitter than the Wolcott brew based on its IBU count.
On February 21st, Ellen and Lejla took their findings and presented them at the 2019 Vermont Hop Conference in South Burlington, VT. Guests were also invited to try samples of the brews and record their thoughts. Stay tuned for part 3 of this story, where we'll share what they all thought of these historic hop varieties!